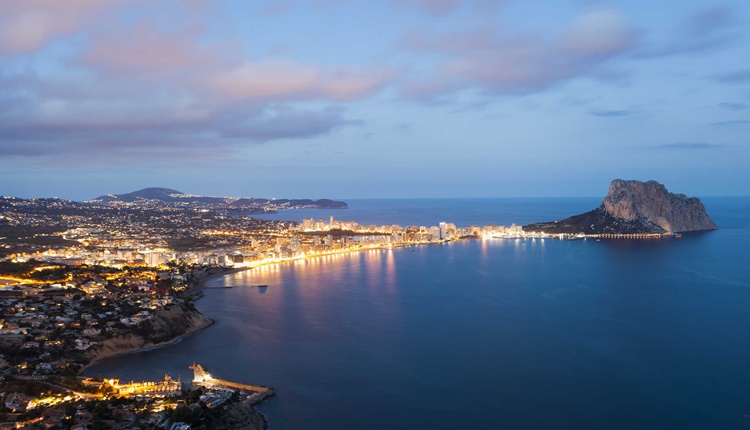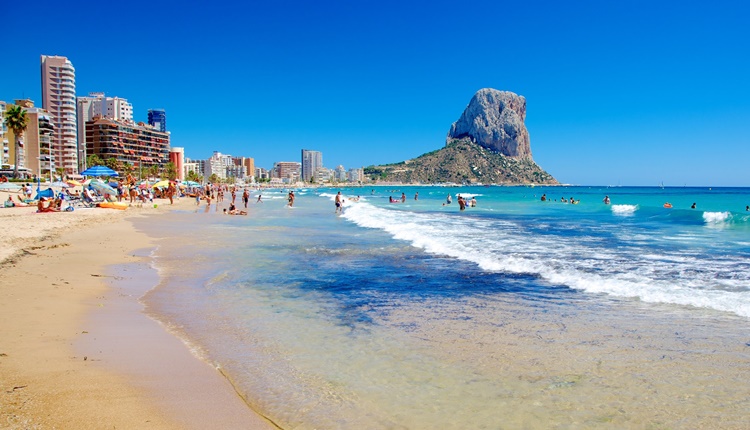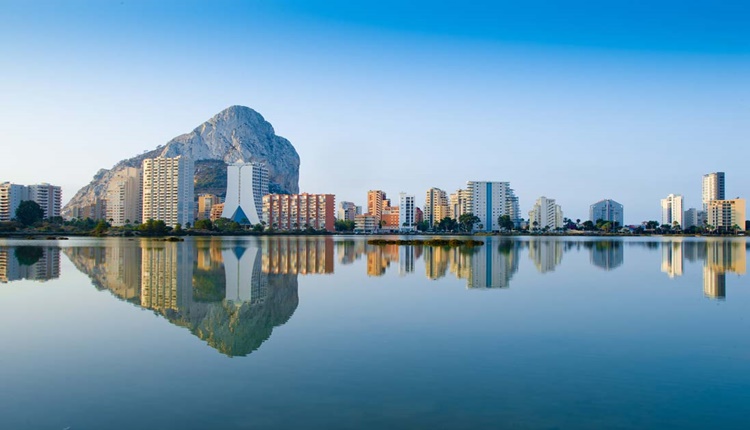 Calpe, or Calp in Valencian, is a municipality in the Province of Alicante that is located 80 kms. from Alicante Airport and 65 from the city of Alicante, and only 25 km from Benidorm, the tourist capital of the Costa Blanca.
Currently, Calpe has a census of 22,725 inhabitants of which 47% are of foreign nationality.
The city is famous for "El Peñón de Ifach", an immense rock 332 meters high that juts out into the sea and is visible from any part of the town. The Peñón de Ifach and its surroundings were declared a natural park in 1987. It is not an easy walk to climb to the top, but the views from its summit are worth it. Other of the most charming places in Calpe are Las Salinas, exploited since Roman times, and the fishing port and its fish market.
The maritime character of Calpe is evident in its 13 km of coastline and its 14 beaches suitable for bathing. In addition, Calpe enjoys an average annual temperature of 18 degrees and 320 sunny days. This makes it an ideal destination to enjoy the sea, whether practicing any of the numerous water activities (sailing, windsurfing, SUP, snorkelling, etc.) or simply lying in a hammock on any of its fine sand beaches and crystal clear waters. . Among the busiest beaches are Playa Arenal Bol and Playa de Levante or La Fossa. But there are also more discreet and less crowded beaches and coves where you can enjoy bathing and sunbathing. Of the latter we recommend Cala Calalga, Cantal Roig, Cala El Racó or Cala Les Bassetes.
As for services, Calpe has an extensive hotel offer of different categories and prices. Among the main 4-star hotels are the AR Diamante Beach, Bahía Calpe, Gran Hotel Sol y Mar, RH Ifach, Suitopia Sol y Mar Suites Hotel and The Cookbook Gastro Boutique Hotel & Spa. There is also a wide range of campsites and areas for motorhomes. But without a doubt, one of the most established sectors is the rental of apartments and tourist villas, both for daily and long-term rentals. The numerous urbanizations that expand around its urban area are an ideal place to enjoy both the sea and nature.
How to get to Calp?
Calpe is very well connected by the A-70 motorway and the N-332 national road. It is also communicated by train if you come from Alicante.
If you travel by car, you will have no problem getting to Calpe, it is accessed by the A70 motorway and the exit is 64. It does not matter if you are coming from the South from Alicante or from the North from Valencia.
How do I transfer from the Airport to Calpe?
The closest airport to Calpe is Alicante, with excellent communication with the city of Calpe. Another alternative airport to get to Calpe is Valencia, but it is not so well connected to Calpe.
How to travel to Calpe from Alicante Miguel Hernández Airport?
From Alicante Airport there is a bus line that you can take outside the terminal and it will take you to Calpe, but keep in mind that this bus makes quite a few stops on its route, which can mean a very long journey time. The company that operates this line is ALSA.
You can also rent a rental car or rent a car at the different offices inside the terminal. But you know, it's your turn to drive and add the costs of fuel, insurance and other extras to the rental price.
Another option is to take a taxi from the rank in the arrival terminal. The approximate price is about €95. On weekends, holidays and at night it is more expensive, and on days with a large influx of people it is normal to wait a long time until you can catch one. We recommend that you set the price before getting into the taxi.
You can also book a transfer in advance. It is a pre-contracted service and the driver will wait for you with a sign with your name and will take you directly to Calpe. At TransferBenidorm.com you can make your reservation online at the best price and with the best quality. We have cars with a capacity of 1 to 8 passengers. Check the price by dates and look for the offers that we always have.
How to travel to Calpe from Valencia Manises Airport?
From Valencia Manises Airport you can get to Calpe by bus, but it is not direct. You can take it at the Valencia Manises Airport and arrive in Benidorm, and there change to another bus to go to Calpe. Calculate between 4 and 5 hours of transfer The company that operates this line is ALSA.
You can take a taxi at the terminal exit, but as I told you before, the price may vary depending on whether it is a weekday, holiday, night or weekend. Check with the taxi driver first. An observation: on days and times of high demand you will have to wait in line to take a taxi.
TransferBenidorm.com offers a private transfer service from Valencia Airport to Calpe. It is a direct serviceand in less than an hour and a half you will be in Calpe. Check the price and make your reservation with total security.
How to travel to Calpe from Alicante train station?
From the Alicante train station you have different options to get to Calpe. You have a bus that picks you up at the same RENFE and AVE station and arrives in Calpe. The bus makes several stops in Alicante and Benidorm before reaching its destination.
There is also a train service from the city of Alicante to Calpe. You can catch it at the Plaza de los Luceros Tram Station and it would take you to Benidorm and once there you have to change to Calpe.
Of course, the Alicante train station has a taxi service. You can take it at the same station and the same thing happens with airport taxis. The price is about 93 euros on weekdays.
With TransferBenidorm.com you can get to Calpe from the Alicante train station in less than an hour. Search our offers on the web and choose between the different types of services we offer, including vehicles adapted for people with reduced mobility and wheelchairs.
How to travel to Calpe from Valencia train station? North Station or AVE Joaquín Sorolla.
There are two options: you can take a taxi at the ranks at the station exits or you can go to the bus station and take a bus to Benidorm and once there wait for another bus that will take you to Calpe.
I recommend you hire your transfer in advance. From this same website you can book transport to Calpe from Alicante Airport at a price from €90, and from the train station or Ave de Alicante from €88.55. With cars of different categories and with capacity for large families and even adapted to wheelchairs for people with reduced mobility. All transfers are private, only you and your group travel in the car, without sharing the journey with anyone. And you can guarantee your reservation from only 15 euros.
Do you need any other information about Calpe? Ask me.